My friends were incredulous. "What are you doing that for?" "You don't need to go to school for that!" "How can you possibly fit that into your schedule?"
Well, "that" is something I've always wanted to do and I figured there's no time like the present, so I enrolled in Maui Community College's Culinary Arts Program for fall semester last year at the age of 54. If all goes as planned, I'll graduate with a Pastry Cook's Certificate next spring at the age of 56! And while I don't think I'll be trading in the public relations company I've owned for the last 18 years for a $12-an-hour baking job, it's turned out to be one of the best things I've ever done.
I'm a pretty good home baker, the operative word being "home." That's probably one of the reasons why my friends reacted the way they did. For years they have been the beneficiaries of my mostly-cookie-and-brownie-and-sometimes-very-complex-tart-baking weekends. They didn't think I needed to attend "culinary school."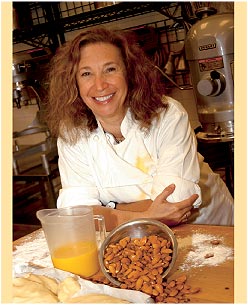 Bonnie Friedman, a resident of Kula, Maui, takes a break during a baking class at Maui Community College. Photo by Steve Brinkman.
But I can't make or frost a layer cake well (yet), and I can't make any of those fancy, gravity-defying desserts you find at gourmet restaurants. I'm also very rusty on bread. Plus my old friend Teresa Shurilla is the instructor of the class, and she's great! And yes, okay, in my middle-age fantasy life I'm making six figures a year as a famous pastry chef in a famous New York restaurant. Oh come on, indulge me here, will you?
I'm also a big fan of Maui Community College, especially the Culinary Arts Program. As a matter of fact, I taught Menu Merchandising in the program for eight semesters in the late 1980s into the '90s, and I like being on campus—if only for one course at a time.
First up was FS (Food Service) 62, also known as the Fundamentals of Baking. There were 13 of us in the class, and I was, obviously, the oldest by decades. We were split into five groups–three groups of three and two groups of two—and I had fantastic partners in Claire and Brandon H. Every three weeks, we rotated through all the basic baking categories—Breakfast, Puff Pastry, Cookies and Bars, Pies and Tarts, Cakes.
Make no mistake. With a cafeteria full of students, faculty and staff to feed Monday through Friday, not to mention private catering jobs, this was production baking. What else would you call it when you have to mix 60 quarts of chocolate chip cookie dough?
I try not to look or act my age. And just because the professor and I are longtime friends, I didn't want, expect, nor would I have accepted any "special treatment." Hauling 60-quart mixers, emptying 50-pound bags of flour and sugar into plastic bins, and carrying stacks of sheet pans into and out of the freezer are all part of the job. So is the daily cleanup required in a state-of-the-art bakeshop. Imagine how many stainless steel bowls, spatulas and measuring cups you need to use for production baking—not to mention all the tile floors that need to be washed!
The kids knew I was old enough to be their mother, but when they realized that I'm actually pretty fun and really did know what I was doing in class, I think they sorta liked having me around. I certainly liked being around all the young and mostly enthusiastic culinary energy.
By the end of my first semester I had learned a great deal; the basics of baking are, after all, more chemistry than art. I also found that everything I made at home was not only better, but the process was easier. And so when I invited all those nay-saying friends to my house for Sunday brunch and made crepes—perfect crepes, if I do say so myself, with 16 choices of toppings and plenty of champagne—they couldn't have been more encouraging about the next semester.—Bonnie Friedman
Humorous, touching, inspiring, thought-provoking—we welcome your personal observations about Life After Fifty. E-mail your 800-word essay and phone number to Editor Cheryl Chee Tsutsumi at cheryl@tradepublishing.com.