Aloha, New Hawaii
We don't need to tell you that Hawaii is a great place to chill. What you may not know, though, is that a travel agent's fantasy list of cool new stuff has made the Aloha State a better place to visit than ever before. From the shops and hotels at Waikiki, to fantastic new ways to access the natural wonders of Kauai and the Big Island, Hawaii is rockin' a whole new world.
Written by Bonnie Friedman
Edited by Justin Goldman
MAUI
STAY »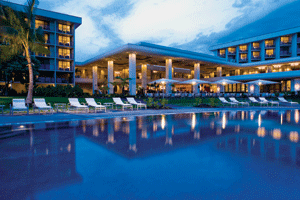 Courtesy of Ritz-Carlton
To say you'll be living in the lap of luxury is an understatement at the Wailea Beach Villas, an oceanfront resort opened in May 2006. The incredibly large two- and three-bedroom condominiums, each with a fully equipped gourmet kitchen (including Sub-Zero refrigerator and granite countertops), reach a new high note on the indulgence scale.
Wailea Beach Villas
,
3800 Wailea Alanui, Wailea, (808) 891-4500,
www.waileabeachvillas.com
, $1,100–$2,500
.


The Ritz-Carlton, Kapalua
(pictured) was due to reopen last month after a $130 million renovation. The lavishly redone rooms include flat-screen LCD televisions, hardwood floors, and marble bathrooms. The hotel's fabulous new spa seems designed for romance, with its cabanas for couples, yoga studio, and treatment rooms with private outdoor shower gardens.
Ritz-Carlton, Kapalua, 1 Ritz-Carlton Dr., Kapalua, (808) 669-6200,
www.ritzcarlton.com
, $600–$2,100.
EAT »
The Wailea Marriott scored a culinary coup when celeb chef Mark Ellman chose the hotel for his
Mala Wailea
, a spin-off of the acclaimed Mala Ocean Tavern. The original in Lahaina is still a hot spot, serving up Island-Mediterranean totally delicious food.
Mala Wailea, 3900 Wailea Alanui, Wailea, (808) 879-1922,

www.marriott.com

; Mala Ocean Tavern, 1307 Front St., Lahaina, (808) 667-9394,

www.malaoceantavern.com

.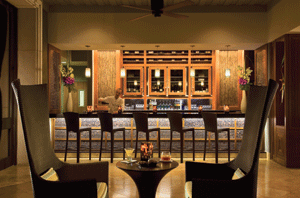 Courtesy of the Four Seasons
Prepare to be knocked out by
Duo's
(pictured) setting—amazing even by Wailea's Bali Hai standards—and its delicacies from sea and land fit for a 25th wedding anniversary blowout. The Four Seasons' newest Maui restaurant charges by the ounce for its designer Kobe beef; a steak can run you as much as a Coach purse. Ask the astute servers for a recommendation on one of the hundreds of international wines the restaurant offers.
Duo, 3900 Wailea Alanui, Wailea, (808) 874-8000,
www.fourseasons.com/maui
.


The spruced-up Ritz-Carlton offers a pair of great dining options: Try the seafood, including moi (the fish once reserved for Hawaiian royalty) at the hotel's signature restaurant, the
Banyan Tree
. The restaurant features spectacular views of the Pacific and the island of Molokai, and live music five nights a week. As an alternative, sushi lovers should check out the innovative Japanese cuisine at
Kai Sushi Bak
.
Ritz-Carlton, 1 Ritz-Carlton Dr., Kapalua; Banyan Tree, (808) 665-7096; Kai Sushi Bak, (808) 665-7040;

www.ritzcarlton.com

.


DO »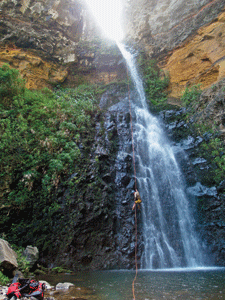 Courtesy of Maui Canyon Adventures
Need excitement? In August, Maui Canyon Adventures (pictured) began offering canyoning, a combination of hiking, rappelling down waterfalls, jumping into pools, swimming, and climbing, all with experienced guides. Maui Canyon Adventures, 285 Hukilike St., B-104, Kahului, (808) 270-1500, www.mauicanyons.com.
The owners of Lahaina restaurants Pacific'O and I'o have cultivated eight-plus acres in up-country Kula where they harvest salad greens, vegetables, citrus, stone fruits, and berries. Tour O'o Farm with a chef who will help you pick your own lunch. O'o Farm, 651 Waipoli Rd., Kula, (808) 667-4341, www.pacificomaui.com.

For a little relaxation, check out the spa at the Four Seasons Resort Maui at Wailea. The spa offers cocoon beds and Vichy showers, as well as private Hawaiian-style oceanfront hale. While at the Four Seasons, take a tour of a new art collection encompassing work from Hawaii statehood in 1959 to the present. Four Seasons Resort Maui at Wailea, 3900 Wailea Alanui, Wailea, (808) 874-8000, www.fourseasons.com/maui.

For a vacation without the hassle of planning, check out the custom trips arranged by Pure Maui. Comprehensive packages include adventure boot camps, family vacations, surfing/yoga trips, and more. Pure Maui, (866) 787-6284, www.puremaui.com.